Product
Computer Time Recorder (S-280)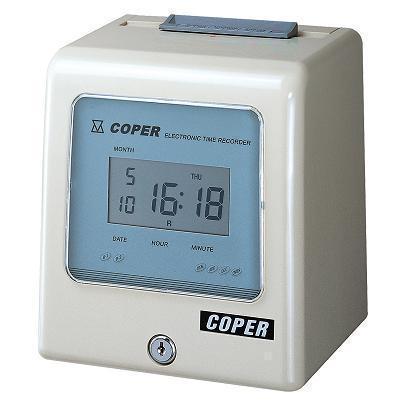 Computer Time Recorder
Jenxer Co., Ltd. is a good and professional manufacturer of computer time recorder products. We provide high quality and compatible products for different requests and wishes from clients. Besides this item, we also offering electronic time recorder, sport timer and time clock. Our excellent supply of world-class quality and manufacture are based on modern facilities and quality control.
As we know, there are many computer time recorder manufacturers all over the world. But we are very proud of our product qualities and we do believe that we can provide the best service. We, Jenxer Co., Ltd., are fulled of technical experiences and very well known on the electronic markets. We offer good product services with qualities and have modern facilities and quality control.
Therefore, Jenxer Co., Ltd. will be a good manufacturing partner for computer time recorder as your need.
Perpetual calendar automatically adjusts for short months and leap year.
Wall & desk mounted.
Back-up battery ensures operation during power failure.
Easy-to-change cartridge ribbon.
2-color printing to highlight early leave/late arrival.
Choices of weekly, bi-weekly, semi-monthly and monthly pay models.
Catalogue

Specifications:
Input Voltage: AC110 ~ 120V, 220V ~ 240V
Frequency: 50/60Hz
Consuming Power:Operating Environment:

Temperature: -10°C to 45°C
Humidity: 10 to 90%

Dimensions: 200 x 225 x 165mm (W x H x D)
Net Weight: 6.5kgs
Features:
Lithium battery protects data during power failure up to 3 years.
2 internal music melodies equipped and optional external bell is connectable.
Automatic shifting column function.
Optional master-slave clock operation.
Automatic daylight saving function.
Sample purchase.
| FunctionModel | S-280A | S-280B | S-280C+ |
| --- | --- | --- | --- |
| Display | Large LCD | Large LCD | Large LCD |
| Two Color | ☆ | ☆ | ☆ |
| Perpetual Calendar | ☆ | ☆ | ☆ |
| Auto IN/OUT Column Function | ☆ | | |
| Punch During Power Failure Function | ☆ | ☆ | |
| Wheel Stamp | ☆ | ☆ | ☆ |
| Memory Storage During Power Failure | ☆ | ☆ | ☆ |
| 2 Musical Siren | ☆ | ☆ | ☆ |
| Summer Time Function | ☆ | ☆ | ☆ |
Order Information:
Minimum Order: Negotiable
Branded Product, Buyer's Label Offered