Product
COPER Micro Computer Time Recorder (S-260)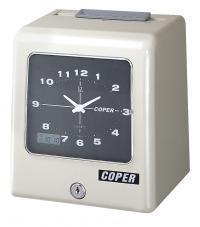 Please click here for detail specifications
Quartz clock accuracy.
Perpetual calendar automatically adjusts for short months and leap year.
Back-up battery ensures operation during power failure.
2-color printing to highlight early leave/late arrival.
Choices of weekly, bi-weekly, and monthly pay models.
Catalogue

Specifications:
Input Voltage: AC110V ~ 120V, 220V ~ 240V
Frequency: 50/60Hz
Consuming Power:
Operating Environment:

Temperature: -10°C to 45°C
Humidity: 10 to 90%

Dimensions: 200 x 225 x 165mm (W x H x D)
Net Weight: 6.5kgs
Features:
Lithium battery protects data during power failure up to 3 years.
2 internal music melodies equipped and optional external bell is connectable.
Automatic shifting column function.
Optional master-slave clock operation.
Automatic daylight saving function.
Sample purchase.
| FunctionModel | S-260A | S-260B | S-260C |
| --- | --- | --- | --- |
| Display | Needles + small LCD | Needles + small LCD | Needles + small LCD |
| Two Color | ☆ | ☆ | ☆ |
| Perpetual Calendar | ☆ | ☆ | ☆ |
| Auto IN/OUT Column Function | ☆ | | |
| Punch During Power Failure Function | ☆ | ☆ | |
| Wheel Stamp | ☆ | ☆ | ☆ |
| Memory Storage During Power Failure | ☆ | ☆ | ☆ |
| 2 Musical Siren | ☆ | ☆ | ☆ |
| Summer Time Function | ☆ | ☆ | ☆ |
Order Information:
Minimum Order: Negotiable
Branded Product, Buyer's Label Offered