Product
CROWN Micro Computer Time Recorder (CR-960)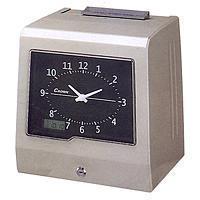 Time Recorder
Automatic perpetual calendar adjusts at the end of each month and leap year.
Back-up battery reserve full power for operation during power failure.
Internal musical melody-40 time setting available.
Two-color ribbons to highlight lateness.
Perpetual calendar automatically adjusts in each month & leap year.


Catalogue
Specifications:
Input Voltage: AC110-120V, 220-240V
Frequency: 50/60Hz
Consuming Power:
Operating Environment:

Temperature: -10°C to 45°C
Humidity: 10 to 90%

Dimensions: 210 x 225 x 175mm (W x H x D)
Net Weight: 7.0kgs
Features:
Rust and corrosion proof housing case.
Handles weekly, bi-weekly, semi-monthly or monthly pay periods.
Automatic IN/OUT column shifting function.
Optional master & slave clock connection.
Automatic summer time change function.
| FunctionModel | CR-960A | CR-960B | CR-960C |
| --- | --- | --- | --- |
| Display | Needles + Small LCD | Needles + Small LCD | Needles + Small LCD |
| Two Color Print | ☆ | ☆ | |
| Single Color Print | | | ☆ |
| Punch During Power Failure Function | ☆ | ☆ | |
| Memory Storage During Power Failure | ☆ | ☆ | ☆ |
| Auto IN/OUT 6 Columns Function | ☆ | | |
| Musical Bell | ☆ | ☆ | ☆ |
| Wheel Stamp | ☆ | ☆ | ☆ |
| Auto Summer Time Change Function | ☆ | ☆ | ☆ |
| Perpetual Calendar | ☆ | ☆ | ☆ |
| Metal Case | ☆ | ☆ | ☆ |
Order Information:
Minimum Order: Negotiable
Branded Product, Buyer's Label Offered