Product
SDC Rate Display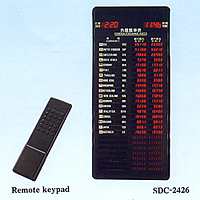 SDC-2426 & Remote Control
Product ID: SDC-2426
Currency exchange rate display in bank, hotel and airport.

Interest rate display in bank.

Merchandise price rate display.

Stock price display.

Production volume display.

Score display or any other applications.
Specifications:
LED size height: 0.5", 0.8" or 2.3"
LED color: orange, green and super bright red
Row size: 6 to 48 rows, each LED PCB module contains 6 rows
Voltage range: wide supply range from 90V to 240V, AC 50/60Hz
Computer linkage: RS232C interface, RS422 optional
Infrared keypad: easy to use rubber keypad, max. editing distance 10 meters
Timer ON/OFF control for LED display: turn on during working hours and turn off during off-duty hours automatically.
Built-in battery for date retain and real time clock: 10 days
1.8" LED for Time and Date display on the top of display board.
Features:
Trademark and color of the face and magnetic strip for item may be ordered.
Sample purchase.
| Model# | Description | Model# | Description |
| --- | --- | --- | --- |
| | 0.8" LED Orange | | 0.5" LED Orange |
| SDC-0616 | 6 rows*1 clo*6 digit | SDC-0616s | 6 rows*1 clo*6 digit |
| SDC-1216 | 12 rows*1 clo*6 digit | SDC-1216s | 12 rows*1 clo*6 digit |
| SDC-1816 | 18 rows*1 clo*6 digit | SDC-1816s | 18 rows*1 clo*6 digit |
| SDC-0626 | 6 rows*2 clo*6 digit | SDC-0626s | 6 rows*2 clo*6 digit |
| SDC-1226 | 12 rows*2 clo*6 digit | SDC-1226s | 12 rows*2 clo*6 digit |
| SDC-1826 | 18 rows*2 clo*6 digit | SDC-1826s | 18 rows*2 clo*6 digit |
| SDC-2426 | 24 rows*2 clo*6 digit | SDC-2426s | 24 rows*2 clo*6 digit |
| SDC-0636 | 6 rows*3 clo*6 digit | SDC-0636s | 6 rows*3 clo*6 digit |
| SDC-1236 | 12 rows*3 clo*6 digit | SDC-1236s | 12 rows*3 clo*6 digit |
| SDC-1836 | 18 rows*3 clo*6 digit | SDC-1836s | 18 rows*3 clo*6 digit |